A modern rooftop bar with locally sourced Mexican food and cocktails. The perfect place to dine on Taco Tuesday with $2 tacos.
Happy Hour
2pm-6pm daily
Sun – Thur 10pm till close
A must-eat when looking for Hawaii-regional food. Enjoy a range of different poke options, garlic shrimp and seafood, musubi, and other local favorites all in one place.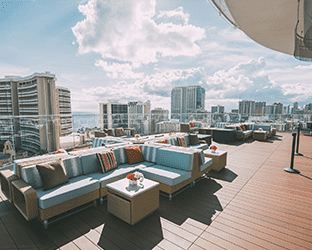 A scenic rooftop bar and restaurant.
Located 19 floors above Waikiki, kick back and relax with beautiful views, unique social bites, and hand-crafted cocktails.
Happy Hour
5pm – 9pm in the lounge
A fun place for Japanese cuisine where the phrase "dinner and a show" is on full display. The best restaurant for steak, seafood, and a special dinner. 
No need to settle for one option when you can have it all. Enjoy a range of 14 Japanese restaurants serving food options such as ramen, sushi, and tempura.