Waikiki is one of the most sought after vacation spots in the world. With no shortage of fresh seafood, infamous chefs, and all-around delicious eats, it's no surprise that restaurants in Waikiki have to do more than just serve food to stand out. Whether they do it by dazzling with instagramable views, or by providing an unforgettable interactive dining experience, there's no shortage of special occasion restaurants in Waikiki. If you're looking for the most special dinner ideas, we've got you covered!
Rooftop Restaurants
What makes Waikiki's rooftop restaurants unique dining experiences? Very few rooftop destinations allow you to enjoy views of the stunning city skyline and the natural beauty of the Pacific Ocean at the same time. These elevated dining experiences won't leave you disappointed!
SKY Waikiki
SKY Waikiki Raw & Bar has Waikiki's only wrap-around rooftop deck! They didn't invent the concept of rooftop restaurants but they sure do it right. With 360 degree views of Waikiki, SKY has tons of outdoor seating with incredible views from every seat. 
Seafood enthusiasts will love their raw bar featuring classics like fresh oysters and cocktail shrimp, as well as local must-haves like Hawaiian Ahi Poke. Whether you're snacking on their wide selection of creative shared plates, or sitting down for their to-die-for entrees, there's delicious food, an incredible cocktail list, and immaculate views. What more can you ask for?
SKY is a popular destination so we recommend making a reservation so you don't miss out on this dining experience!
Pro Tip: Don't miss happy hour! SKY offers $2 Oysters, $4 Heineken and $9 Bubbly every day until 5pm. Come in from the beach a little early to have a drink and watch the sun set over Waikiki. 
BÚHO cocina y cantina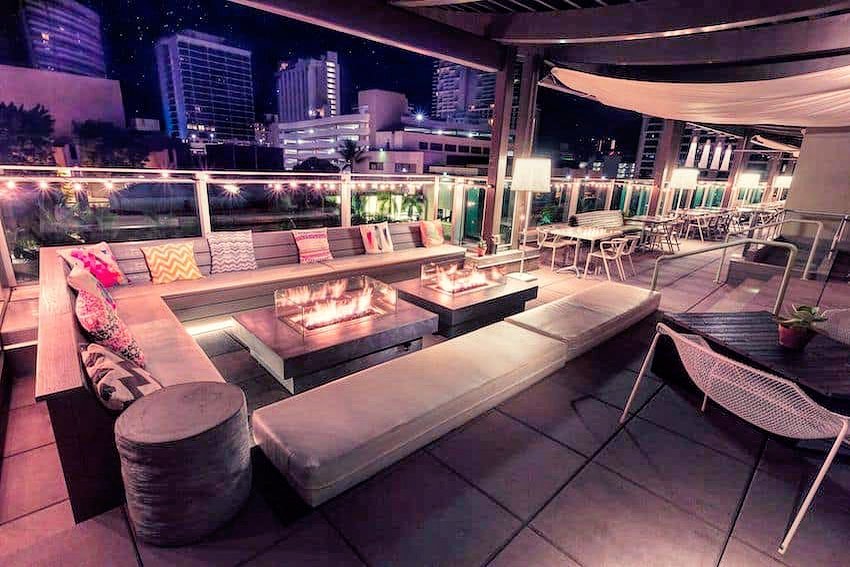 Búho's gorgeous rooftop cantina is an experience unlike any other. Their beautifully decorated restaurant features modern, Mexican-inspired cuisine served alongside specialty margaritas and an impressive list of wines, beers, and tequilas. You can't go wrong with tacos and rooftop views in the heart of Waikiki!
Búho's unique menu uses fresh ingredients like island-caught fish and locally grown poblanos, tomatillos, cilantro, and lime to bring the Aloha spirit to Mexican Cuisine.
You can make a reservation at Buho, but also don't be afraid to walk in or join the waitlist! Búho keeps most of their tables unreserved to accommodate same-day guests looking to enjoy elevated Mexican cuisine.
Pro Tip: Get the party started! Try their Spiked Melon Bowl and share with your table, it's worth it!
Dinner and a show
Why stop at views of Waikiki? The art of cooking is also on display at this immersive dining experience.
Tanaka of Tokyo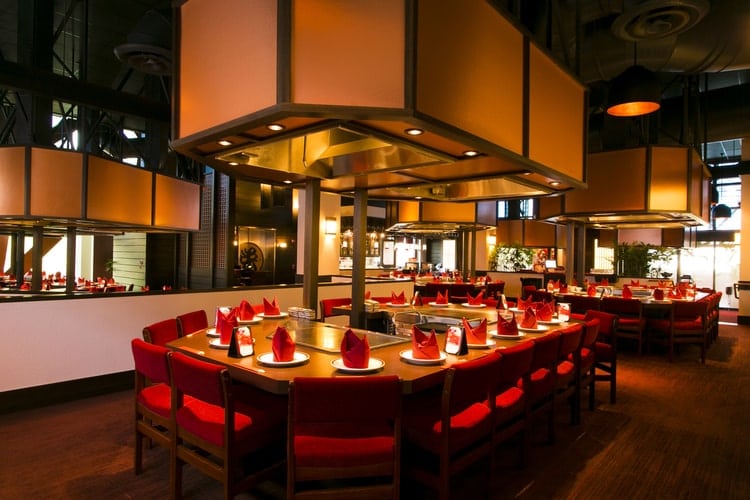 Tanaka of Tokyo has been voted the best Japanese restaurant in Hawaii since 2012! It's the combination of high-quality steak and seafood and an entertaining guest experience that makes Tanaka of Tokyo the perfect place to celebrate a special occasion, or just the fact that you're in Waikiki!
Tanaka of Tokyo is a local chain with 3 locations on Oahu. We love the stylish, soft-lit central location located on the third floor of the Waikiki Shopping Plaza. It is the original location and has been a Waikiki staple since 1978. You'll be amazed by the Master teppan-yaki chefs who will artfully (and safely!) prepare your meal on your tabletop grill. Tanaka of Tokyo is the Hibachi and Teppanyaki experience that has withstood the test of time.
Tanaka of Tokyo accommodates walk-ins, but we recommend making a reservation just to be safe.
Pro Tip: Take your time! This meal is an experience that will take at least 90 minutes. Tanaka of Tokyo validates parking for 3 hours at the Waikiki Shopping Plaza, so you may have a bit of extra time to shop and explore!